Jackson's:
February 27th, 2021
Summary:
Jackson's is a very difficult technical ride featuring an exposed descent. If you are an expert level rider looking to test your mettle then you'll want to hit up this double black diamond strip of 2.2 miles.
Category: Trails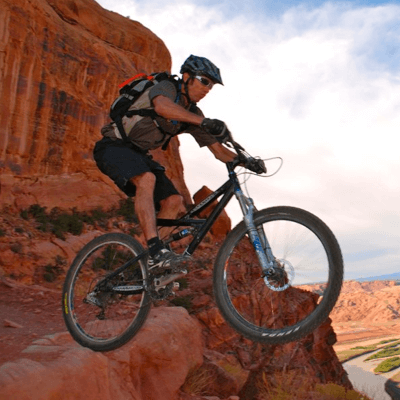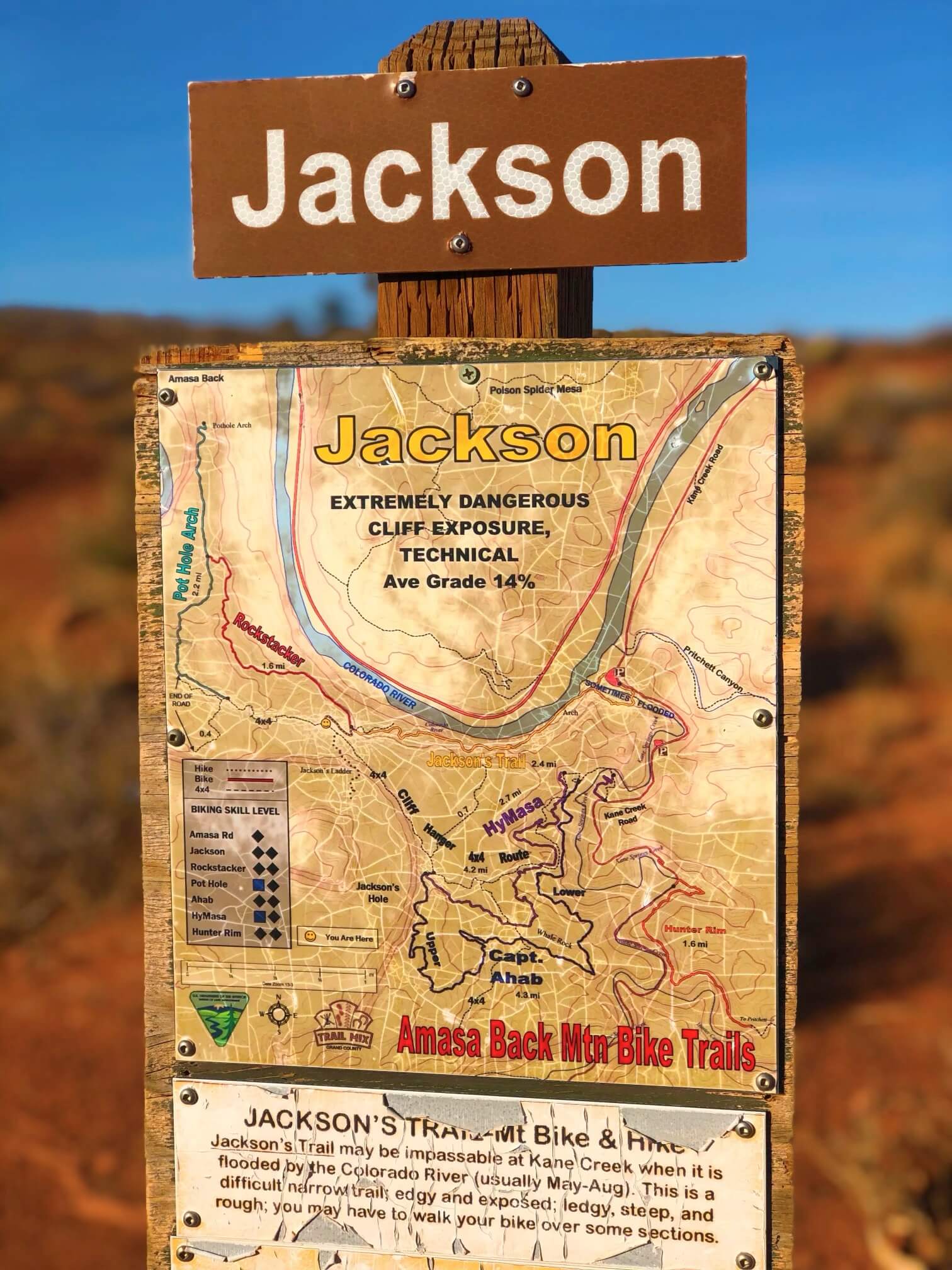 Jackson's Trail Difficulty / Rating
◈◈ Very Difficult – Expert
Jackson's Trail Statistics
2.3 MILES / 30′ ELEVATION GAIN / 5% AVE / 28% MAX
Best Way To Ride Jackson's
The Jackson single track is a 2.2 mile double black diamond trail, located off of the Amasa Back Cliffhanger Jeep road. It can be accessed by climbing Amasa Back or the Hymasa trail. The top portion of Jackson offers beautiful views of the Colorado river amongst tight, chunky, techy, and highly exposed singletrack. This trail is recommended for highly advanced and expert riders only! The main crux move of the trail combines a tight squeeze between two boulders, into a steep left handed, ledgey, shelf switchback, followed by a chunky steep drop into a hard right hand turn. Prior to that move, there are drops, rock hops, and extreme exposure. Once off of the cliffs edge, it's an easy rolling singletrack pedal back to the Kane creek crossing. The creek area can often be flooded, depending on time of year and annual snow melt.
Jackson's Trail History
The trail was named after John Jackson, a local Moab cattle rancher from the early 1900's, who was on the borderline of an outlaw. John Jackson is responsible for blowing and laying trails in the Moab area to get his cattle from the highgrounds during the winters, to the river and low grounds during the summer. He had an infamous ongoing feud with another local rancher named Bill Tibbets. For more information on this fascinating piece of Moab history, check out the read below:
McCourt, Tom. The MOAB Story from Cowpokes to Bike Spokes. Canada:Johnson Books, Big Earth Publishing company, 1946. Print
Best Months To Ride Jackson
---
STAY ON LINE. PROTECT FRAGILE BIOLOGICAL SOIL CRUST, POTHOLE ECOSYSTEMS & PLANT LIFE. STAY ON LINE. THANK YOU LEARN MORE
---
Related Jackson's Links
Trails Nearby Jackson's
When was the last time you rode Jackson's?
Sound off in the comments below and share a story about your ride!
How were the trail conditions? How was the weather? Did you clock some hang time?
Keep Reading: