Captain Ahab:
February 27th, 2021
Summary:
What do you look for in a mountain bike trail? Captain Ahab is steep, technical, fast and fun. This is an excellent trail built specifically for mountain biking.
Category: Trails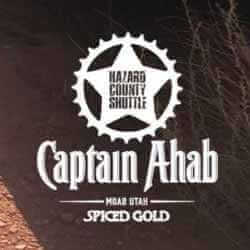 Captain Ahab Trail Difficulty / Rating
◈◈ Difficult – Expert
Captain Ahab Trail Statistics
4.2 MILES / 326′ ELEVATION GAIN / 6% AVE / 23% MAX
Best Way To Ride Captain Ahab
The Captain Ahab trail is rated double black diamond and is located in the Amasa Back area in Moab, Utah. It has gained such popularity it now rivals the world famous Slickrock trail. This 4.3-mile trail is one-way directional that is generally snow-free in winters and reasonably close to town. Ahab can be accessed by riding Amasa Back or the less-traveled mountain bike friendly Hymasa trail up to the top of Ahab while avoiding the jeep and side by side traffic on Amasa Back.
Although the Hymasa trail offers an easier route it is still a challenging climb to the top entrance to Upper Ahab. A round trip ride of Ahab from the parking lot is roughly 8.5 miles with around 1100' of elevation gain.The Captain Ahab trail can be cut in half by using the midway connector. The connector trail appears on Amasa Back at about mile 2.3. A quick pedal of 0.5 miles to Ahbab, and a left turn will help you reach the lower half of the trail which is mostly downhill. This option will cut the ride short to 5.9 miles with 700 feet of vertical climbing.
Captain Ahab itself is not an easy trail, with a double black diamond rating it takes experience, good skills and confidence to be conquered. The upper section of Ahab has more climbing sections in comparison to lower Ahab. With all the ups and downs on the trail, Captain Ahab has a combined elevation gain of 1100ft. There are armored rock camps, steep downhill sections, and uphill ledges which can be challenging during the climb. There are a bunch of great features on this ride that can be rolled (keeping both tires in contact with the ground) or alternate options allowing for jumps and large drops. The views at the top of upper Ahab of Jackson Hole and Canyonlands are beautiful. A great place to stop for a bit, grab a drink, snack, and take a pic while you take them all in.
The upper half has been designed for riders who like technical descending. It comprises some short punchy climbs, drops, and technical rock moves. If you get worked on Upper Ahab or feel like you've gotten in over your head, you have the option of bailing out using the connector trail to descend back down the HyMasa trail at the lower Ahab junction. The lower Ahab section starts with a dirt road and wraps around Whale Rock. This section is considered to be the most fun part of the trail because it's fast and has less climbing than the upper portion. This trail is not for amateurs as it requires advanced riding skills. Once you get the hang of it, you can ride easily along the rolling ramps, slotted lines, and technical climbing moves but it is still not a simple cruise. The bottom portion of lower Ahab is a single track perched above Kane Creek. It's super fast and fun with steep rock ramps, narrow slotted gaps that traverse the edge of the cliff. The lower section of Captain Ahab is so much fun that a lot of riders choose to ride back up Hymasa to the halfway point and session the lower Ahab section again.
Lastly, there is an access trail that leaves right out of the parking lot bypassing the climb up Kane Creek road. This easy and beautiful flowy singletrack meanders around Kane creek and drops you right at the creek crossing entrance to Amasa Back. Look for the trail behind the pit toilets and or at the trailhead sign. A big shout out to Tyson Swasey, the BLM, Trail Mix, and all of the volunteers who made Captain Ahab a reality for us to enjoy. Cheers! Check out the store for our limited edition Captain Ahab shirt.
Best Months To Ride Captain Ahab
---
STAY ON LINE. PROTECT FRAGILE BIOLOGICAL SOIL CRUST, POTHOLE ECOSYSTEMS & PLANT LIFE. STAY ON LINE. THANK YOU LEARN MORE
---
Related Captain Ahab Links
Trails Nearby Captain Ahab
When was the last time you rode Captain Ahab?
Sound off in the comments below and share a story about your ride!
How were the trail conditions? How was the weather? Did you clock some hang time?
Keep Reading: