Riding Captain Ahab Singletrack:
March 2nd, 2021
Summary:
Located in the Amasa Back area in Moab, Utah, the Captain Ahab singletrack is a great ride for the experienced rider. Here we take a detailed look on the riding experience you'll have if you enjoy the Captain Ahab trail.
Category: Trails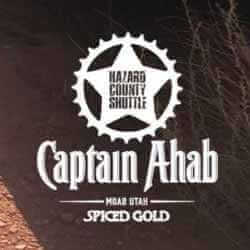 Captain Ahab's Roots
The Captain Ahab trail is rated double black diamond and is located in the Amasa Back area in Moab, Utah. The mastermind behind this 4.3-mile long trail is Tyson Swasey. Tyson grew up in the Moab area and has been ripping the local trails since the age of 12. He possesses a unique riding style making advanced moves seem effortless and has the ability to make himself float through the air.
He loves riding a bike and still to this day, his world revolves around the sport which he started back in his childhood. Not only is Tyson considered to be one of the best riders in Moab he is also a top mechanic at Poison Spider Bicycles and has expertise in trail building. He volunteered with Trail Mix, which is an advocacy group for mountain biking and a trail building organization funded by Moab's local government.
This volunteer work helped him gain a plethora of knowledge and experience and gave him a chance to showcase his trail building skills at the International Mountain Biking Association (IMBA) Trail Solutions. He now works with the IMBA to create trails for mountain bikers to enjoy all across the United States.
Captain Ahab Trail Map Detail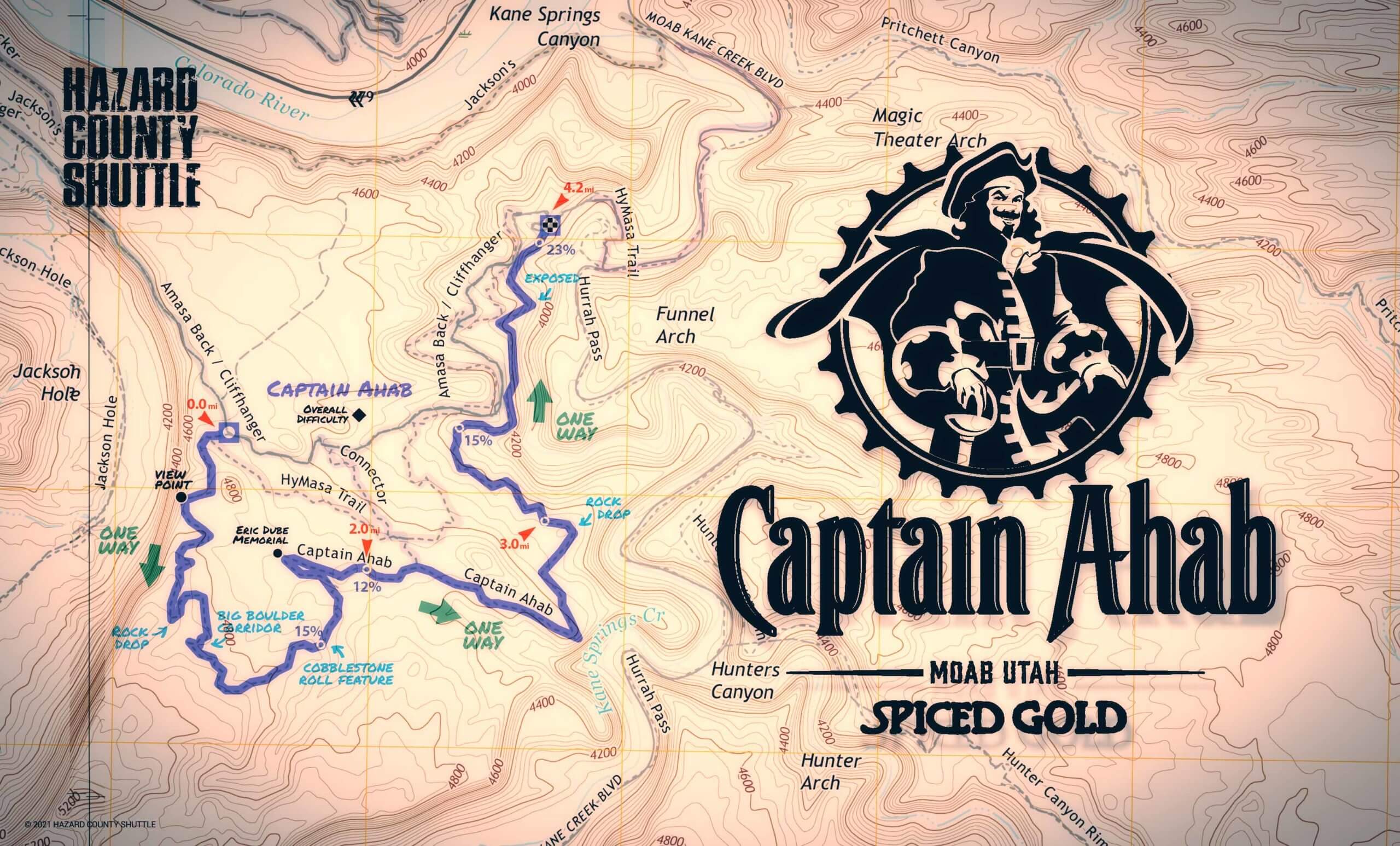 The Idea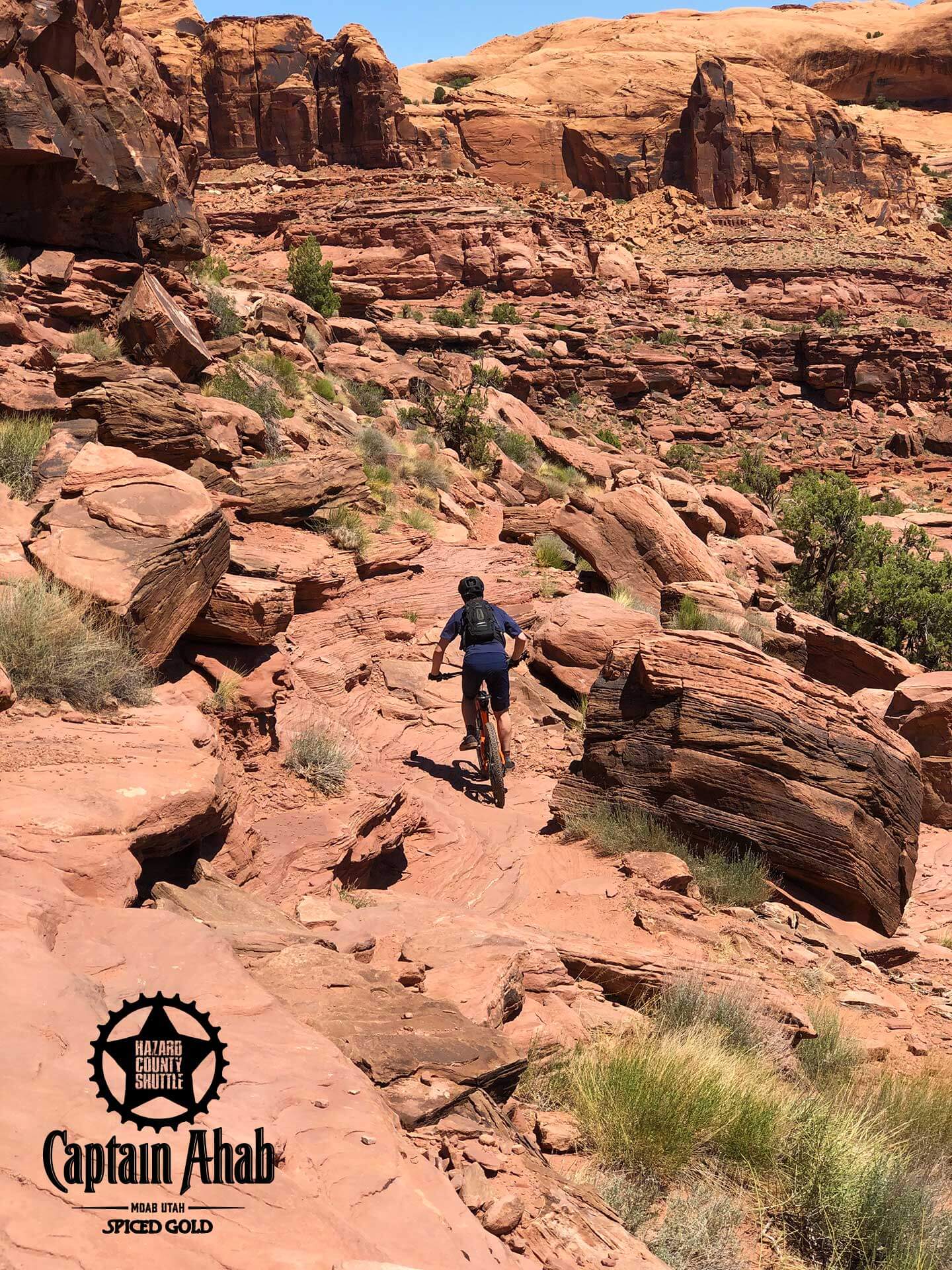 Captain Ahab Single Track Photo Gallery
The story behind the creation of Captain Ahab is a fascinating one. On a cold winter morning, Tyson Swasey was sitting in a coffee shop with his friend Nick Badovinac. Nick had mentioned he had a place in mind for a new trail in the Amasa Back area. He thought a specific shelf located in the lower Amasa Back area might go all the way to the top allowing them to construct a new trail. Tyson's reaction to this was simply to let's go now!
They ended up at a shelf which now forms part of lower Ahab. After confirming the shelf would lead them to the top, Tyson and Nick were so pumped and excited for their new endeavor that they got working immediately on the planning aspects of the trail.
Tyson went from feature to feature to connect the dots while he and Nick collaborated on which rocks needed to be removed and or shifted in order to form a trail. It took them many more trips to the area to figure out how to construct the trail and during this time Nick and Tyson had multiple debates on whether the trail would actually be rideable or not.
Because the bottom area was so narrow, it was decided that the trail had to be a one-way directional trail. The final proposal put forward for the Captain Ahab trail by Tyson was for a one-way advanced expert level trail.
Legal Aspects
The duo presented the idea to the TrailMix Organization to get them on- board. TrailMix expeditiously supported their trail and were ready to adopt it.
The next big step to bring Captain Ahab to fruition was to present the route plan to the Bureau of Land Management (BLM), which is an agency in the United States whose responsibility is to administer public lands.
One of the major challenges Tyson and Nick faced with the Captain Ahab trail was to resolve issues in regard to disturbing archaeological and wildlife aspects. Tyson and Nick remedied these concerns by devising a trail route that avoided archaeological spots and wildlife areas.
The approval of the BLM was achieved with the help of Katie Stevens of BLM who led the wildlife, environmental and archaeological processes. Trail construction received final approval in December 2012.
The Build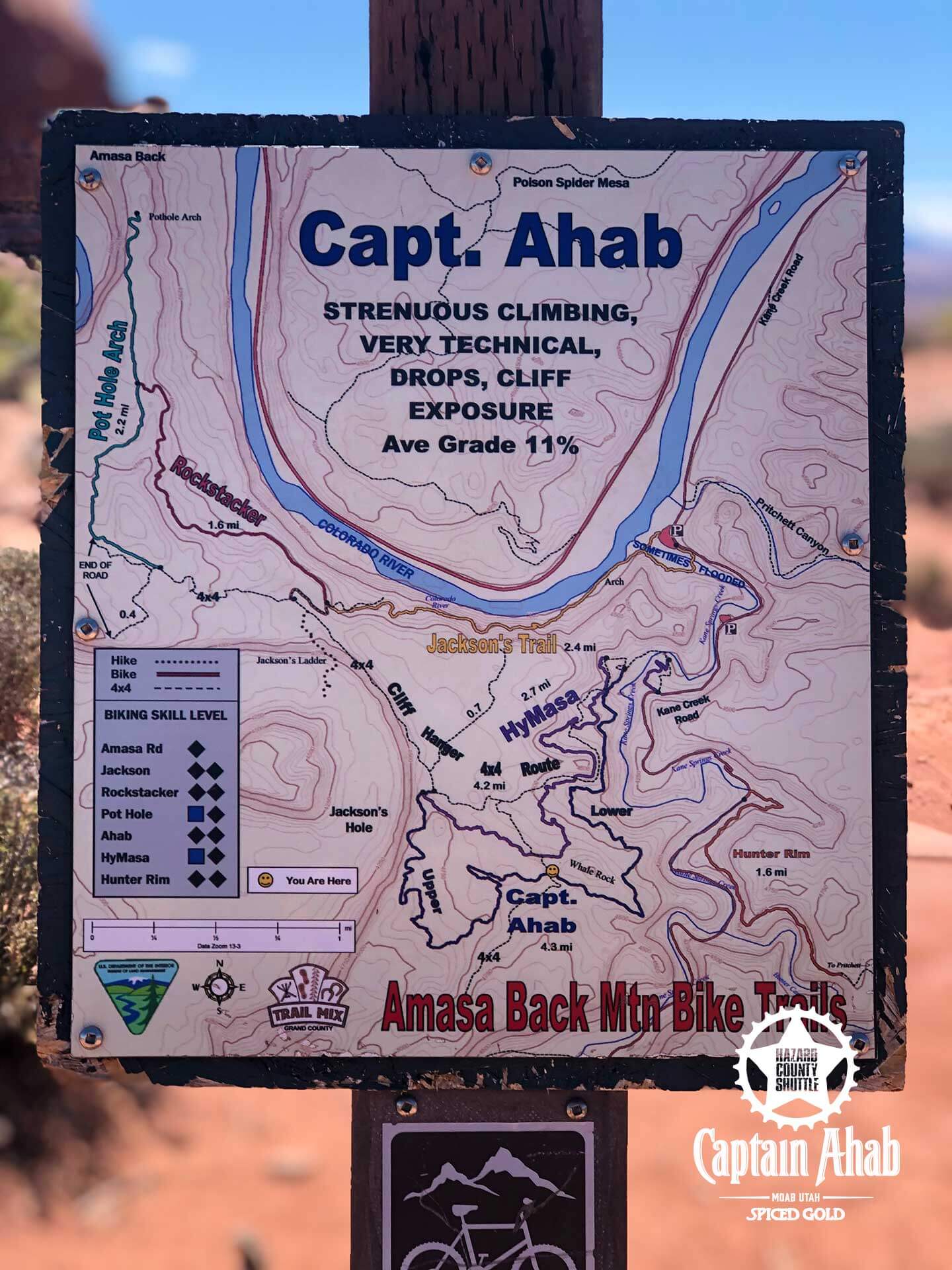 Work on the Captain Ahab trail finally began on January 20, 2013, and it took two months to construct the trail.
The route was cleared with the help of Tyson Swasey, Brain Luger who is a Trail mix employee and avid mountain biker along with over 280+ volunteers.
Tyson Swasey took an equal part in building the trail by moving rocks with grip hoists, hydraulic lifts, and his own hands. A huge sixty-pound come-along with a half-inch thick steel cable was used to haul and maneuver boulders and sandstone slabs. Tyson was exhilarated and proud to be building an expert double black diamond trail in the heart of the place in which he had grown up in.
The name of the mountain biking trail according to Tyson Swasey was inspired by Whale Rock which reminded him of the novel Moby- Dick. The captain in the Herman Melville classic novel was obsessed with avenging the loss of his leg which was chopped off by a white whale. The obsession of Captain Ahab is not unlike those of the trail builders themselves of Ahab.
Trail Details
Captain Ahab is a one-way directional trail that is generally snow-free in winters and reasonably close to the town.
Ahab can be accessed by riding Amasa Back or the less-traveled mountain bike friendly Hymasa Trail.
The Hymasa Trail was also designed by Tyson and named after Jonny Hymass an influential person in the Moab bike community who died in a car accident back in 2012. It offers ridders an easier route up to the top of Ahab while avoiding the jeep and side by side traffic on Amasa Back.
Although the Hymasa trail offers an easier route it is still a challenging climb to the top entrance to Upper Ahab. A round trip ride of Ahab from the parking lot is roughly 8.5 miles with around 1100' of elevation gain.
The Ahab Connector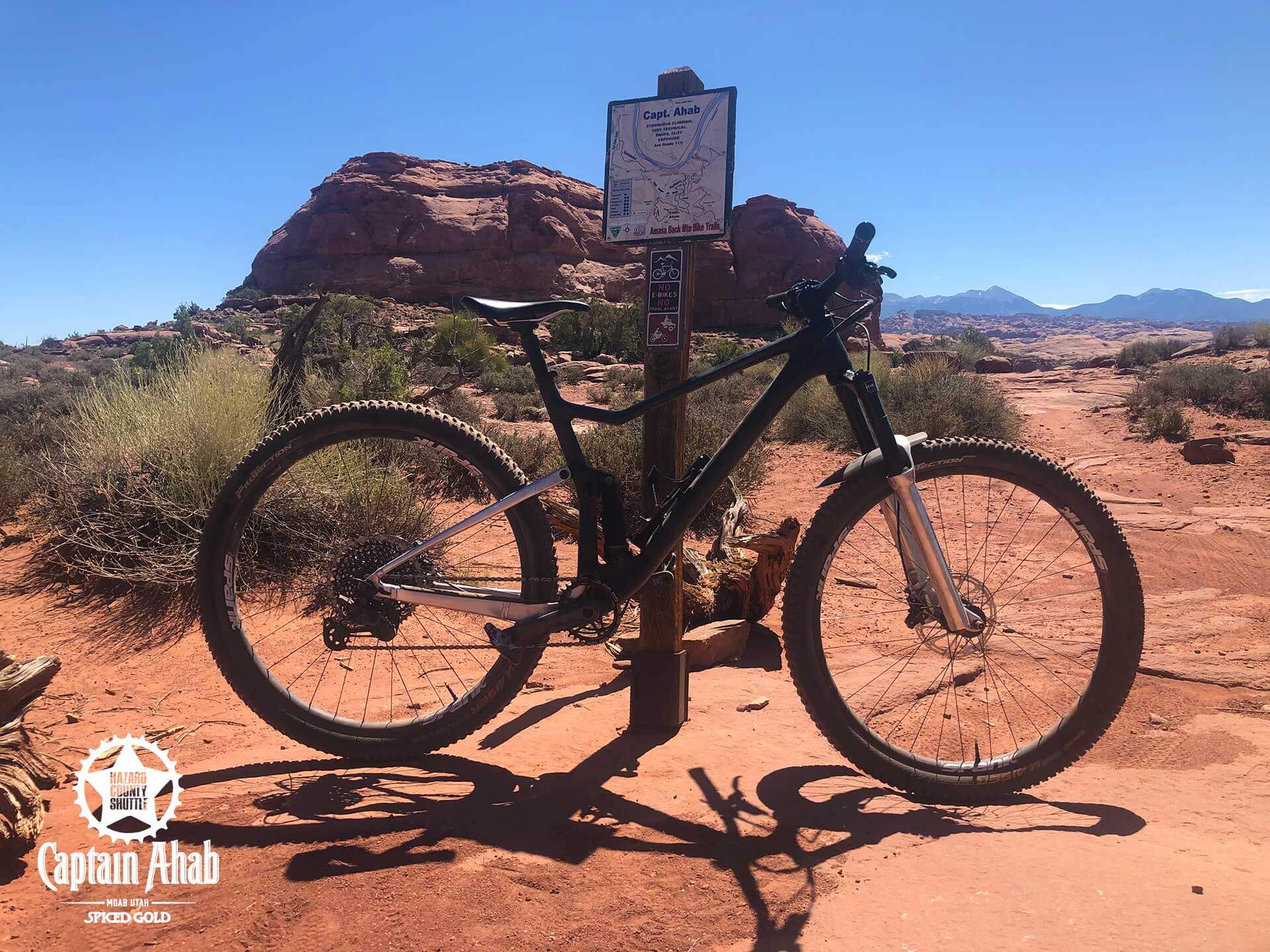 View the Captain Ahab Photo Gallery
The Captain Ahab trail can be cut in half by using the midway connector.
The connector appears at Amasa after you cover a 2.3- mile distance, a further ride of 0.5 miles to Ahab, and a left turn will help you reach the lower half of the trail which is mostly downhill.
The ride will be cut short to 5.9 miles with 700 feet of vertical climbing. The trail is located in the desert area so there is not much organic layer falling from trees. The trail is covered with sand, dirt, and biological soil crust. Without the biological soil crust, there would've been dunes and no vegetation.
Upper Captain Ahab
Captain Ahab itself is not an easy trail, with a double black diamond rating it takes experience, good skills and confidence to be conquered.
The upper section of Ahab has more climbing sections in comparison to lower Ahab. With all the ups and downs on the trail, Captain Ahab has a combined elevation gain of 1100ft. There are armored rock camps, steep downhill sections, and uphill ledges which can be challenging during the climb.
The views at the top of upper Ahab of Jackson Hole and Canyonlands are beautiful so you might want to stop for a bit, grab a drink, and snack while you take them all in.
The upper half has been designed for riders who like technical descending. It's comprised of some short punchy climbs, drops, and technical rock moves. f you get worked on Upper Ahab or feel like you've gotten in over your head, you have the option of bailing out using the connector trail to descend back down the HyMasa trail at the lower Ahab junction.
Lower Captain Ahab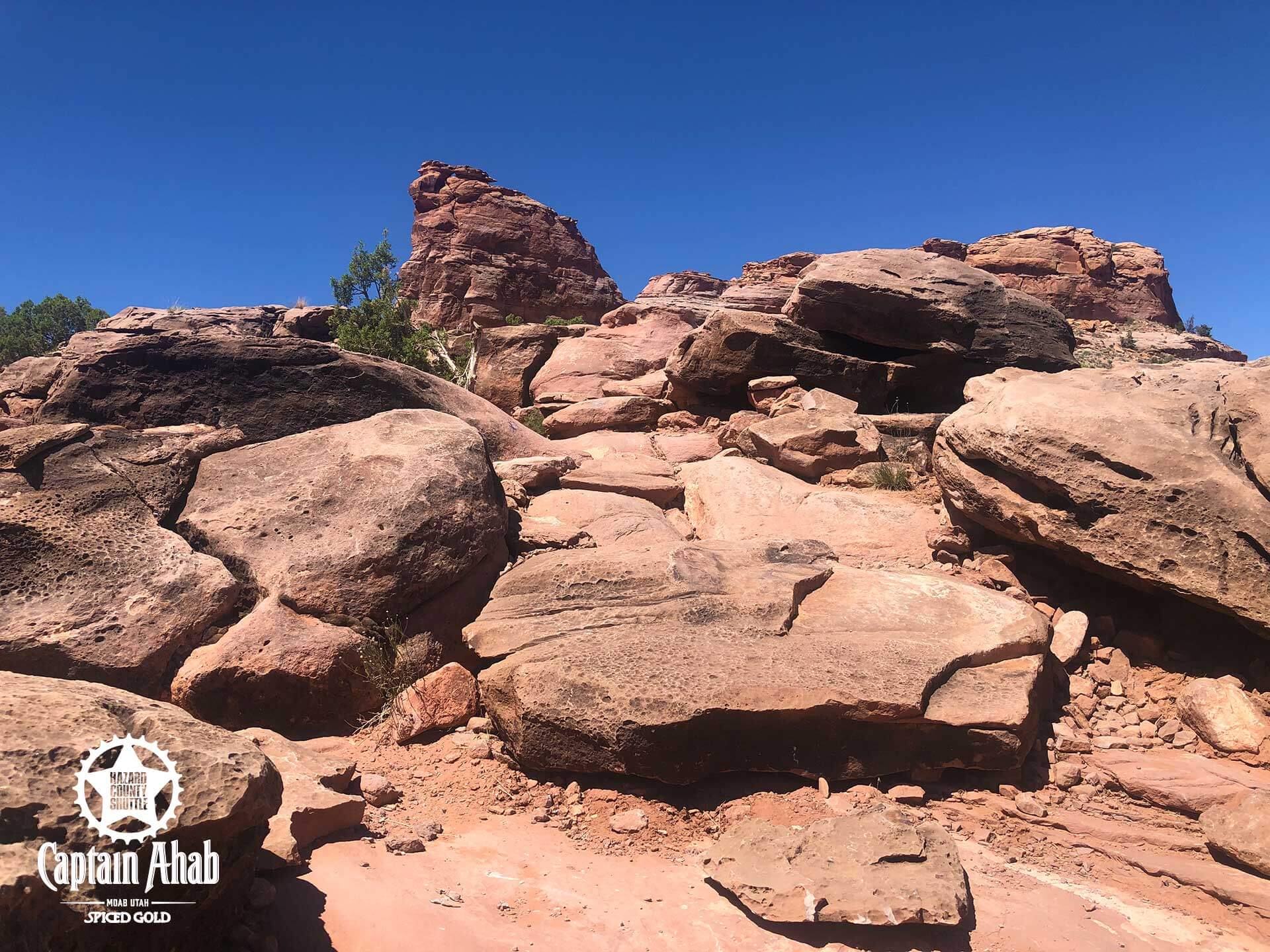 The lower Ahab section starts with a dirt road and wraps around Whale Rock.
This section is considered to be the most fun part of the trail because it's fast and has less climbing than the upper portion. This trail is not for amateurs as it requires advanced riding skills.
Once you get the hang of it, you can ride easily along the rolling ramps, slotted lines, and technical climbing moves but it is still not a simple cruise.
The bottom portion of lower Ahab is a single track perched above Kane Creek. It's super fast and fun with steep rock ramps, narrow slotted gaps that traverse the edge of the cliff.
The lower section of Captain Ahab is so much fun that a lot of riders choose to ride back up Hymasa to the halfway point and session the lower Ahab section again.
New Access to Captain Ahab
Lastly, there is a new access trail that leaves right out of the parking lot that was built by guess who?
This trail eliminates the pedal up Kane creek road to the beginning of the Hymasa trail.
Instead, this easy and beautiful flowy singletrack meanders around Kane creek and drops you right at the creek crossing entrance to Amasa Back. Look for the trail behind the pit toilets and head right.
A big shout out to Tyson Swasey, the BLM, Trail Mix, and all of the volunteers who made Captain Ahab a reality for us to enjoy. Cheers!
Schedule Your Next Bike Shuttle in Moab with Hazard County Shuttle
When you're planning your next trip to Moab for mountain biking, river rafting, or just getting around, consider scheduling a shuttle with Hazard County Shuttles. Hazard County Shuttles goal is to get you out there riding more, so you can maximize your riding time while in Moab. Give Hazard County Shuttle a call at (435) 210-8082 or schedule online and buy a bike shuttle ticket!

Keep Reading: