Everything You Need to Know About Riding Falcon Flow Singletrack:
February 13th, 2021
Summary:
Are you looking for an intermediate level trail? We cover the details of riding the Falcon Flow MTB singletrack. Falcon Flow is a fun and flowy blue square trail.
Category: Trails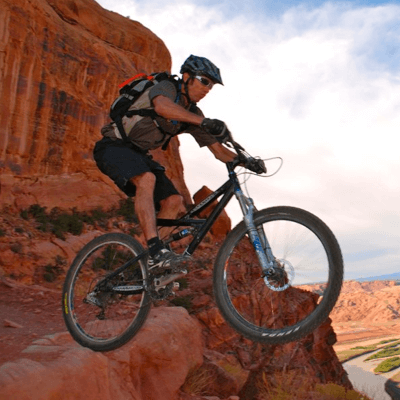 Riding Falcon Flow MTB Singletrack
Falcon Flow is Moab Utah's newest trail that features beautiful vistas of the Grandstaff Canyon Wilderness area and the La Sal Mountains. It's a fun and flowy singletrack mixed with sandy sections and intermediate technical challenges along the way. This trail is marked as a two way out and back, or you can ride 2.7 miles up Sand Flats Road from the lower parking area to make it a loop.
Falcon Flow is 5.4 miles one way with 758' of elevation gain. It begins with a brief easy climb followed by a fun downhill section that requires little pedaling. There are technical features such as rolling rock ramps, tight switchbacks, ledges, and some narrow spots which requires threading your wheel through tightly gapped rocks.
After crossing the first 4×4 road you are presented with a modest climb that emerges to an exposed cliff section. The steepness and exposure of this section are closer to that of the Pipe Dream trail. They're not nearly as treacherous as other trails in the Moab area. After completing the last tight short switchback the trail strays from the cliffs edge and opens up for the next 3 miles. It's fast fun singletrack coupled with a few drops, interspersed with slickrock and sandy sections, with brief up and downs.
Falcon Flow is the first 5.4 mile section of a proposed three-part trail system which will be named Raptor Route. Once completed Raptor Route will be 9.5 miles in length and will provide an alternative for returning back to town after riding the Whole Enchilada.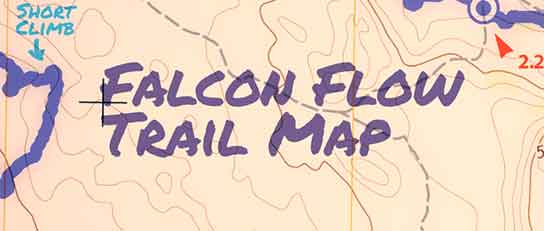 Falcon Flow Trail Map
Falcon Flow is rated a blue square which is in the middle of the difficulty scale making it a more moderate option of getting back to town then the double black diamond Porcupine Rim Trail. Additionally, should a problem arise Falcon Flow is more accessible for emergency rescue efforts than other trails in the area.
Prior to Falcon Flow the only bail out option from the Whole Enchilada was to ride 13 miles back to town on Sand Flats road. Although mostly downhill Sand Flats road has been experiencing increasing traffic over the past several years. Raptor Route will cut out about half the mileage needed to get back back to town while keeping bikers on singletrack where they belong.
From the bottom of Falcon Flow it's a 6 mile mostly downhill pedal on Sand Flats Road back to town. Most riders shuttle to the top of Falcon Flow and ride down or shuttle up to LPS and connect LPS to Falcon Flow.
View the Hazard County Shuttle Falcon Flow Photo Gallery
I was amazed how fatigued I was after just two days of shredding super technical trails in Moab. I definitely misjudged how dry the desert was. As a result I was feeling quite dehydrated and a little sluggish on my second night. I decided a solid meal at Miguel's Baja Grill with a good nights sleep would help remedy the situation. I ordered the steak fajita plate which was just what the doctor ordered and I added a Gu electrolyte tablet to my water and opted to skip those oh so tempting margaritas.
The next day I was still feeling a little rough so I slammed down a liter of water with another Gu electrolyte tablet and decided I would session Moab's newest trail named Falcon Flow. I parked in the lower parking lot ate a Gu gel and began the 3 mile pedal up Sand Flats Road to the trailhead. Starting with an easy pace the short brief climbs still seemed to tax my legs a bit. About 30 minutes later my legs came back to life as I reached the main trailhead where I stopped to eat a Cliff Bar and sip more water.
The ride started with a brief climb to an awesome lookout point with a view of Grandstaff canyon. The trail then diverged into a super flowey downhill section with tight turns and a few optional features.
Falcon Flow Trail Area
Schedule Your Next Bike Shuttle in Moab with Hazard County Shuttle
When you're planning your next trip to Moab for mountain biking, river rafting, or just getting around, consider scheduling a shuttle with Hazard County Shuttles. Hazard County Shuttles goal is to get you out there riding more, so you can maximize your riding time while in Moab. Give Hazard County Shuttle a call at (435) 210-8082 or schedule online and buy a bike shuttle ticket!

Keep Reading: