MTB Riding Magnificent 7 with Hazard County Shuttle:
February 27th, 2021
Summary:
Mag-7, the trail you choose when you are looking for a slightly less technical ride than the Whole Enchilada. This Moab favorite trail is an epic MTB ride.
Category: Trails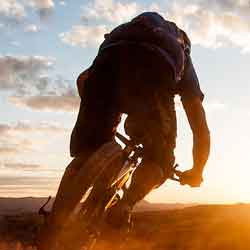 Singletrack trail a little less technical than the Whole Enchilada
After riding the lower section of The Whole Enchilada the day before, I wanted something a little less techy. My friends AJ and Emily also decided to join me today. After some deliberation, we chose Magnificent 7, also known as Mag 7 to ride today.
Since Hazard County Shuttle worked out so well the day before, I gave them a call. The guy on the phone explained the three different pick-up locations depending on how far and where I wanted to ride. After weighing my options, I chose to exit at the Poison Spider trailhead. This way I could get 26 miles of riding in, including the Gold Bar Rim to test my technical skills but skip the Portal trail which is above my skill level. AJ and Emily decided they would ride the upper section with me, but exit at the Gemini Bridges road and skip Gold Bar Rim.
Fresh Legs, More Riding
The next morning, we loaded the shuttle. We made a quick stop at the Jaycee Campground to pick up four other riders with full padding and full-face helmets to ride the Portal trail. The Portal trail is rated double-black diamond and way beyond my skill level. Lastly, we stopped at the Moab Brands parking lot where my friends AJ and Emily boarded the shuttle. Together we drove about 45 minutes to the trailhead.
Before the ride, I dropped some Gu Electrolyte tablets in my CamelBak bladder to help minimize cramping during my ride. Sipping electrolytes on long rides like this 23 miler makes a big difference to me.
For the first section, you have two options, take the main route down the Bull Run trail or the alternate route on the Getaway trail. Bull Run is a 5.4-mile long trail following open rock on the edge of Bull Canyon. Just before getting to the end of the trail, you can turn for the Gemini Bridges road to visit the arches.
The other option is to take the Getaway trail. Though not officially part of the Mag 7 trail, this trail is a much less technical option than Bull Run.
Next, continue along the meandering slickrock of Arth's Corner about 1.5 miles. Here you can choose to take the alternate route for the Great Escape which is not part of the Mag 7. If you take this alternate route, you will skip all of Arth's Corner and pick back up 1.6-miles down Little Canyon Singletrack.
Gold Bar Rim
The Little Canyon Singletrack is 2.3-miles of great riding. Descend 400 feet of singletrack slickrock to a wash where you'll then climb a slickrock shelf to the Gold Bar Rim.
This is where my friends AJ and Emily parted ways. I rehydrated from my CamelBak and supplemented with some Gu Gels before continuing on my ride.
The next part of the ride is the Gold Bar Singletrack. The first two miles are a steady climb over slickrock before the trail switches to a 4×4 Jeep trail for the next 1.8 miles. This trail has some technical sections and you can be competing with Jeeps depending on the day you ride.
Golden Spike
This next section of the trail was the most difficult because of how tired I was at that point. Golden Spike is 6 miles of up and down riding and can feel pretty difficult at this point of the day. This riding isn't particularly technical though.
Finally, I arrived at Poison Spider trail which I finished down to my car. I was so glad to see my car and not have to ride the 10 miles back to town.
I met up with AJ and Emily that night at Sabaku Sushi for dinner. They were feeling pretty good after we parted ways and they rode a few miles on the Moab Brands trails. I'll have to check those trails out another day.
View MAG 7 Magnificent 7 Trail Photo Gallery
Mountain Bike Trails:
Portal Trail
Gemini Bridges
Schedule Your Next Bike Shuttle in Moab with Hazard County Shuttle
When you're planning your next trip to Moab for mountain biking, river rafting, or just getting around, consider scheduling a shuttle with Hazard County Shuttles. Hazard County Shuttles goal is to get you out there riding more, so you can maximize your riding time while in Moab. Give Hazard County Shuttle a call at (435) 210-8082 or schedule online and buy a bike shuttle ticket!

Keep Reading: