Rebecca Rusch Queen Of Pain:
June 21st, 2020
Summary:
The year was 1968, and it was the twenty-fifth day of August when a star was born by the name of Rebecca Rusch. The fifty-year-old professional mountain biker has represented numerous disciplines in her career, and she constantly strives to push her boundaries to be able to accomplish more.
Category: Athletes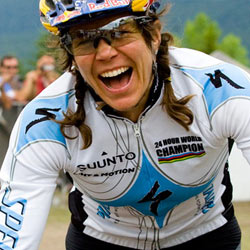 Pro Women's Endurance Athlete Rebecca Rusch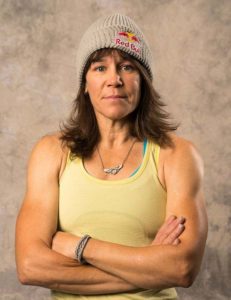 Rebecca Rusch Pro Athlete
The year was 1968, and it was the twenty-fifth day of August when a star was born by the name of Rebecca Rusch. The fifty-year-old professional mountain biker has represented numerous disciplines in her career, and she constantly strives to push her boundaries to be able to accomplish more.
Rebecca rides thousands of kilometers on a bike and is a seven-time World Champion and Emmy Award Winner. She is a top-rated female adventure racer and a superhuman success across disciplines that include adventure racing, rock climbing, and cycling.
Despite having completed five decades of her life, she does not feel the need to retire. In fact, she is still exploring her potential with regard to how far can she reach.
One of the most popular quotes of Rebecca Rusch is, "Affecting my physical body is a way for me to reach inside my soul. Suffering allows me to access who I am emotionally."
Rebecca has bagged numerous race wins and World Championships. A list o this top- rated female adventure racer's achievement is as below:
World Races & Championships
Gravel Bike Racing World Champion (2015)
World Masters XC Cycling Champion (2010)
3-Time 24 Hour Solo Mountain Bike World Champion (2007, 2008 ,2009)
Masters Cross Country Skiing World Champion (2008)
Primal Quest Expedition Races (2002 – 2006)
Eco Challenge Adventure Races (1997 – 2002)
Raid Gauloises Expedition Races (2000, 2002, 2003)
Raid Gauloises Adventure Racing World Championships, 1st (2003)
State and National Championships
XC Single-Speed National Champion (2011, 2013)
USAC National Singlespeed Champion: Sun Valley (2011)
24 Hour Team MTB National Champion (2008, 2009, 2011)
Idaho Cyclocross State Champion (2009)
Idaho Short Track State Champion (2008, 2009)
USA Cycling Ultra Endurance Series Winner (2006, 2007, 2009)
USA National Marathon Championships, 4th (2008)
24 Hour Solo Mountain Bike National Championships, 2nd (2007)
24 Hour Solo MTB National Champion (2006)
24 Hour Orienteering National Champion (2006)
US Whitewater Rafting National Champion Team (2001, 2002)
Individual Races
Arkansas High Country Route, FKT [fastest known time] (2019)
Iditarod Trail Invitational 350, 1st Woman (2019)
Dirty Kanza XL 350, 1st Woman (2018)
Dirty Kanza 100, 1st Woman (2017), 1st Overall (2016)
Smoke'N'Fire 400, Women's record holder (2015)
Jay P's Backyard Fat Pursuit 200k, 1st Woman (2015)
Trans Andes Challenge MTB Stage Race 300k, 1st Woman (2014)
Dirty Kanza 200, 1st Woman (2012, 2013, 2014)
Kokopelli Trail Moab-Fruita Course Record, 13:32:46 (2013)
Leadville 100, Winner and women's record holder (2009, 2010, 2011, 2012)
24 Hours of Moab, solo MTB race, 2nd (2007)
Mountain X-Games Adventure Race, 1st Women's team (2007)
24 Hours of Moab, 1st Women's team (2005)
Media Awards
Elected to Mountain Bike Hall Of Fame (2019)
Outside Magazine Top 40 Women Who've Made the Biggest Impact (2017)
Men's Journal 25 Most Adventurous Women in the Past 25 Years (2017)
Trailblazer MVP Award, Women's Sports Museum (2017)
Active.com #19 of 50 World's Best Athletes (2015)
Active.com #32 of 50 World's Best Athletes (2013)
Mountain Biker of the Year, Endurance LIVE Awards (2010)
Sports Illustrated Adventure Racing Team of the Year (2003)
Outside Magazine Top 20 Female Athletes of the Year (2003)
Adventure Sport Magazine "Queen of Pain" (2004)
Rebecca Rusch Won Colorado's Leadville 100 Mountain Bike Race for a Whopping Four Times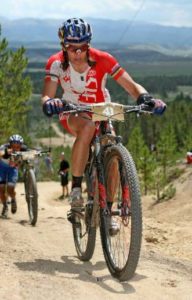 Rebecca Rusch Leadville 100
Rusch flaunts her nickname—The Queen of Pain, that her peers gave her when she was surviving her adventure racing days. These multi day races got her mind and body so well trained that she won Colorado's Leadville 100 Mountain Bike Race for four times.
Leadville is the second-most popular marathon mountain bike races in the U.S. The race was first conducted in 1994. The race is conducted on a 50-mile long traillout and back to the entry post in downtown—Leadville, and thus the name.
In fact, the actual length of this race is exactly 104 miles. Rebecca Rusch raced the Leadville and won the title for four-times straight between 2009 and 2012.
Below is the total time is taken by Rebecca to complete the race:
| Race | Year | Winner | Time |
| --- | --- | --- | --- |
| Leadville 100 | 2009 | Rebecca Rusch, Idaho | 8:14:53 |
| Leadville 100 | 2010 | Rebecca Rusch, Idaho | 7:47:35 |
| Leadville 100 | 2011 | Rebecca Rusch, Idaho | 7:31:46 |
| Leadville 100 | 2012 | Rebecca Rusch, Idaho | 7:28:06 |
Difficulty is a Small Word for What Rebecca Faced During the Kokopelli Trail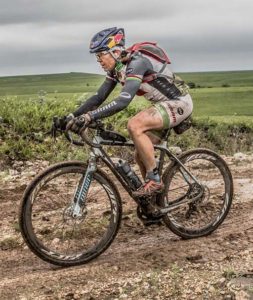 Rebecca Rusch Pro Athlete
The year was 2006.
The goal was for the QOM on the Kokopelli Trail, which is a 142-mile trail stretching from Fruita Colorado to Moab Utah. Rebecca being high on motivation, set out for the world record in the dark during the wee hours of the morning. She was in her groove, when a sudden crash posed as the first roadblock, after just two and a half hours into the ride.
Rebecca hit a rut at an extremely high speed. She didn't care about what she was suffering from physically. Her first reaction was to check on her bike. After a quick bike check, she felt there was something wrong with her left hand. She took a closer look to realize that her left index finger was dislocated.
This wasn't it for Rebecca, who was a fighter. She got back on her bike and checked if she could operate the brakes. It was extremely uncomfortable for Rebecca to use her dislocated index finger, but she didn't think of the pain and continued to focus on the the task at hand.
Next thing, at around 4 am, the light mounted on her handle bears went dead. Luckily for her it happened to be full moon and and she rode the next 20 miles using just the moonlight. The sun rose and Rebecca pressed on setting a new women's world record completing the Kokopelli trail in 13:32:46.
Rebecca was an absolute beast obliterating to the previous record of 15:03.
A Philanthropist that Rebecca Rusch is in Disguise of a Biker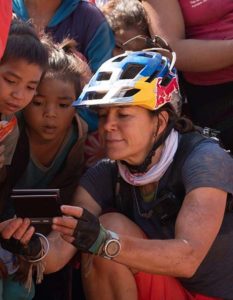 Rebecca Rusch Be Good Foundation
Rebecca is a human in a true sense. She believes in giving. Besides being a world champion, she strives to win the battle that communities face. Rebecca founded the Be Good Foundation, as a means to enrich communities by using a bicycle to heal and empower the sufferers.
That's not it.
In September 2019, Rebecca launched one of the top five gravel grinders in the world —Rebecca's Private Idaho Gravel Ride endurance event. Numerous riders rushed to the event, which was organized to raise funds for numerous non-profit organizations such as the World Bicycle Relief Project, the Wood River Bike Coalition, and Bikes Belong.
The course rode up and out of Sun Valley Idaho, past yee Old Sun Valley Resort. Followed by a climb up Trail Creek road, straight to the Trail Creek Summit. Each of the riders had two options—50 miles or 100 miles. The event wasn't a 'race' kind of thing, but some of the riders did take it seriously and felt the competitive spirit coursing through their veins.
Among the others, Sara Barber, Lisa Nelson, and Jill Cederholm third won the race.
Riders were met with beers, food, and memories at the finish line.
The Story of the Brutal Mountain Biking of the Iditarod in Alaska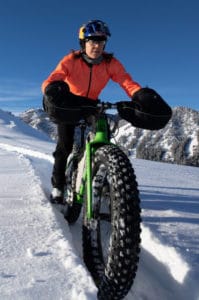 Snow MTB Riding
After the ride and the title of being a finisher of the 350-mile biking within a time of 3 days 20 hours and 55 minutes, the Queen of Pain said that she felt terror for the first time in 10 years while being on surrounded by the cruel elements and freezing Alaskan weather.
The 350-mile long event included about 28 riders, two skiers, and 19 runners. Food and shelter were provided to the participants at every checkpoint. Rebecca wasn't prepared for the subzero extreme Alaskan cold, and the bad combo of active sweat glands and poor circulation made her numb.
The subzero temperature in Alaska caused breathing and lung issues due to prolonged exposure in the cold. This was more of a mental challenge than a physical one, and Rebecca proved herself yet again. The temperature when Rebecca reached the finish line was -23 degrees celsius.
Remembering about the expedition Rebecca says, and I quote:
"Exploration and pushing outside my comfort zone have been part of who I am my entire life. I've lived and preached the rewards of taking a calculated risk for decades. What I realized this year, as I turned 50, is that it had been a while since I'd taken a really big athletic risk myself. I've done hard things, but haven't had that palms-sweating, heart-racing feeling about an expedition for 10 years. I realized I needed to really and truly challenge myself again. It was time to take on something bigger than I've done before."
Rebecca Rusch Features in Blood Road and 1000 miles to Nome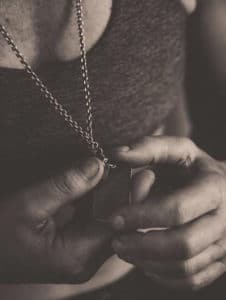 Rebecca lost her father when she was about three years old. Her father, who was a U.S. Air Force F-4 pilot, was taken down during combat in the Vietnam War (1972). Thinking of the event caused a sense of purpose in Rebecca's life, and she decided to set on a bike journey of about 1,930 Km, along the trail of Ho Chi Minh that crossed through the jungles of Vietnam.
Rebecca set out on this expedition with a clear mission in her mind. She wanted to reach the site where her father was shot down before 40 years in Laos. The film was premiered at the Sun Valley Film Festival in January 2017, and it received the audience choice award. The cycling documentary won an Emmy Award in October 2018. Besides Emmy, the film also won awards at the Banff Mountain Film Festival, Sun Valley Film Festival, and Bentonville Film Festival, and Breckenridge Film Festival.
The movie is currently streaming on Red Bull TV.
In her another film—1000 miles to Nome, Rebecca makes a brief appearance to take the audience on an emotional and gripping adventure and provide a give a glimpse into the lives of cyclists, who pedaled and pushed their bikes along the path of the isolated trail to Nome.
Rebecca's Golden Journey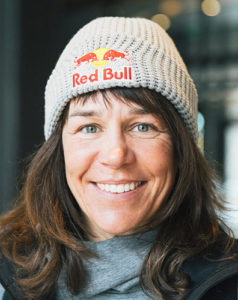 Rebecca Rusch
You know, when you meet certain people and feel motivated by the very presence of them, Rebecca is one of these people. She constantly works on herself and strives to push herself to greater achievements.
Mountain biking isn't just an occupation for Rebecca. It is a way of life. She seeks refuge through cycling and meets a 'new her' every time.
Rebecca Rusch is the —Queen of Pain.
Schedule Your Next Bike Shuttle in Moab with Hazard County Shuttle
When you're planning your next trip to Moab for mountain biking, river rafting, or just getting around, consider scheduling a shuttle with Hazard County Shuttles. Hazard County Shuttles goal is to get you out there riding more, so you can maximize your riding time while in Moab. Give Hazard County Shuttle a call at (435) 210-8082 or schedule online and buy a bike shuttle ticket!

Keep Reading: